Culture is not a 'thing'. It's a process. The full payoff for how we work together.
Do hierarchy and you get bureaucracy. Systemic inertia. Stuckness.
Do participation and you get agency. Systemic potential. Movement.
We apply the principles of living systems to the work of organisational development, culture and change.
Because that's what organisations are.
Living systems.
We design, host and curate conversational environments that help people think, talk, work, learn and make real progress together in structured, creative ways.
We turn systems 'thinking' into systems practice and take words like 'collaborative leadership' and 'whole-system change' off the page and bring them alive in the room.
Our focus is the system. How people work together and how they do the work together.
Our approach is a combination of relational and participative, emergent and organic, strategic and productive.
We invite people to bring all of themselves to the task – their experience and ideas, values and passions, knowhow and questions, strengths and vulnerabilities – and to make a meaningful contribution to the issues they care about..
We've designed and facilitated processes for many different purposes, with organisations of all kinds, at every level of scale – from strategic planning with leadership teams to small groups of fifteen or fifty, to large scale whole-system work involving hundreds of people in a single room and more than a thousand people across several continents.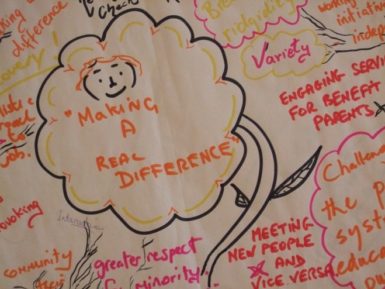 Working the way life works, we've helped our clients:
Engage more people, more authentically
Have more open, honest conversations
Strengthen relationships and deepen trust
Have conversations that don't normally happen
Appreciate differences and find common ground
Access the intelligence in the system
Build new alliances across boundaries
Integrate initiatives and people
Find a new purpose and a new path forward
Share knowhow and resources
Develop living strategies (not dead reports)
Increase participation and responsibility
Create a culture of learning and renewal
"Being involved [in the organising group] was great; I loved it. I loved the systematic way we worked and I always trusted that what we would do and produce would be really good and worthwhile. So I had confidence and pride in being involved. I felt I could stand over anything we did. I really felt I was contributing to the quality and the future of our lives…"
"In my mind I see [the organisation] as a type of jigsaw puzzle where each part is vital to complete the picture. I was awakened to the need for consultation at every level and that despite what leadership said constantly – that they had the bigger picture – this is not possible unless they know what the 'shape' of each part looks like…"
"Gradually we began to believe that change really does begin with ME… that each person has to choose to participate (or not…) And has a responsibility for their own growth and change. This calls for a huge change of mindset and a change in how we all relate – we all need to trust each other more and more…"
"All our team found the process very engaging. It has definitely set the scene for a productive coming together of our services, which continues… It also offers a new way of working and we are trying to model this in bringing together many different stakeholders to find a better solution…"
Want to do things differently? Let's talk.